I saw this on the great dSLR blog Cinema5D a while back: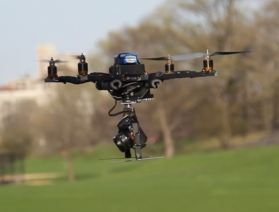 It may be hard to tell from this picture, but that is a Canon EOS 5D Mark II shooting HD video from a remote controlled, microcontroller stabilized quad-helicopter. This particular platform is by Perspective Aerials, who are doing some very impressive things with the technology. Check out Canon 5D Mark II Aerial Drone – Autonomous GPS Position Hold. The microcontroller has been integrated with a GPS so the copter can hold position and altitude automatically while the remote camera operator pans and tilts the camera.
Seeing the possibilities of this inspired me to check out what can be done with microcontrollers, and has led me to a new obsession with the Arduino… but that will have to be for another post.
Check out the super fast MikroKopter – HexaKopter. Elevator Mode….